Home >> English >> In search for our roots
an amazing story of a lucky reasercher.
My grandparents, the father and mother of my father, were born Russians in peasants families. Grandfather Elisha (Rodion Trofimovich Ageyev) was born in 1884 in a small village called Kosachyovka. Grandmother Rywka (Ekaterina Petrovna Illina) was born in 1886 in a neighboring village called Kostyukovka. Both villages are located about 100 kilometers south of Smolensk in the district of the town Shumyachi. In 1922 my grandfather made a major change in his life and destiny, he decided to follow the footsteps of Abram as he was commended by the Lord:
"Go from your country and your kindred and your father's house to the land that I will show you. I will make of you a great nation, and I will bless you, and make your name great, so that you will be a blessing…Every male among you shall be circumcised. You shall circumcise the flesh of your foreskins, and it shall be a sign of the covenant between me and you."
As a first step he converted himself to Judaism (including self circumcision), then he converted his three little sons (one of them was my father), he converted two of his brothers and many other persons, friends and their families. He organized a group of about 10 families which were ready to follow the command of The Lord, to leave their homeland, parents, brothers and sisters, their culture and their religion and to go to The Promised Land to live there as Jews. The group landed in the port of Jaffa in the summer of 1923 and settled in Tel Aviv. They were officially converted to Judaism (Giyur Ke'halacha) by the chief Rabi
of Palestine - Rabi Abraham Yitzchak Ha'Cohen Kook. They changed their names and the names of their children to Hebrew names. They lived in Tel Aviv as Jews for the rest of their lives. As a boy I was not interested in the past of my grandparents. The only thing I was aware of was that they were "Gerim" (converted Jews).
In 1999, after the death of my father Shlomo I decided to investigate the roots of my Russian ancestors. The information I had was very poor – only an old travel document which was issued to grandfather Rodion Ageyev in 1918 by the church of his birth district, a personal diary which was hand written in Russian by grandfather, a few photos from the old country with many unidentified persons in them, and "personal knowledge" and stories which I heard mostly from my father. The diary and how it was discovered deserve a separate attention. Grandfather never showed it to any of his children. He hid it in a piece of furniture which was given to a member of the family after the death of grandmother. When this family member passed away, in the process of clearing her apartment, the piece was given away to the flee market. When they turned it to carry the piece out, a small book fell out of it, it was the personal diary of grandfather……
From my father I knew that grandfather left in Russia a large family. As for the family of grandmother I heard only that she had a sister.
Using the old travel document and the internet, I managed to determine the location of Kosachyovka and Kostyukovka. I decided to visit there and to try to collect more information about my family. I hoped to find there church records, to meet people who know details, names addresses etc. My biggest problem was that I was not able to communicate in the Russian language. In the process of my search for the location of the villages I used a local agency. They not only found the place, they contacted a local person who turned abandoned to be a relative, Vladimir Semionovich Ageyev, a son of Semion Ageyev, a cousin of grandfather Rodion. Vladimir lives in Shumyachi, the biggest town and the cultural center of the area. When he heard of my plan to visit Kosachyovka he invited me to be a guest in his home. He promised to take care of all my needs including hiring a Russia-English translator.
In August 2003, joined by my wife, we traveled to Russia. After a few days in Moscow and a few days in St. Petersburg we went to Smolensk. Our host Vladimir Ageyev met us in Smolensk's train station, accompanied with a translator, and drove us to his home in Shumyachi. We met his nice family and after a traditional Russian meal they drove us to Kosachyovka and Kostyukovka, about 20 minutes drive from Shumyachi.
When we reached the location we were disappointed to discover that these two villages, the birth places of our ancestors, where they lived for generations, are now abounded and deserted. We were told that the church of Zagustino, in which we hoped to find records, was destroyed and burned down in the days of the war and Nazi occupation. We also could not find a cemetery with headstones. Our host could not give us any useful information about the family despite the fact that he himself was born in Kosachyovka.
We decided to cut our visit short and to return in the same night to Moscow. Before he drove us back to Smolensk to catch the night train to Moscow, Vladimir gave me a book- "Shumyachi Almanac 1". He said that in one of the stories in this book I will find the life story of his father Semion, and that in this story his father mentioned the fact that he was denied membership to the communist party "because his cousin (Rodion) immigrated to Israel…."
When I returned from this moving trip I was determined not to give up and to continue the quest for the roots of my Russian family. I realized that I must learn the Russian language. So the first thing I did was to start learning Russian. I learn Russian for almost two years now. I already can read and write Russian fairly well and my conversation skills in that rich language are improving each day. As my reading skills became reasonable I decided to try to translate the diary of my grandfather. I could not do it all by myself so I got help from my private Russian language teacher as part of my learning.
The diary is an authentic record of the life of Rodion from his early childhood in Kosachyovka until the days he started his voyage to his new life in the Holy Land. I was stunned to learn the details of his activity of recruiting people to the Jewish faith, including the actual circumcision of many men and boys. He did it first to himself, then to his sons and two of his brothers, and then to about 50 more men and boys of the community he organized. I was very disappointed not to find in the diary any clue or explanation of what caused my grandfather to decide to convert to Judaism. I realize now that the answer to this question may never be known, the old took the answer with them to heaven.
As part of my Russian lessons I started to read and translate stories from the book I received from Vladimir "The Shumyachi Almanac". It turned out that this book is a real treasure for my research. The book is a collection of stories, personal memories and essays written by the citizens of the district. It is actually an historic document of the events which took place in that district since the end of the 19th century, through the revolution, the land reform, the days of the collectivization and the horrible years of the Nazi occupation in WW2. Some of the stories were written by members of my family.
In one of the stories my grandfather Rodion is even mentioned by his name and the fact that he left the village and settled in Israel is also mentioned.
About the family of my grandmother Rywka (Ekaterina Petrovna Illina) I knew noting at all. Among the old photos I found a photo of a family of four, a mother, a father, and two daughters, which I was told by my father that this is a photo of the family of his mother. So I assumed that the photo is of the father and mother and sister of grandmother Rywka (Katia). Among the old photos I found a few portraits of unidentified persons. On the back of one of the portraits of a young man, I found a dedication in Russian which I managed to translate:
"Look and remember the dark and horrifying days of the Fascist occupation. Dedicated to Prokop Vasileyevich the person who saved me from a terrible death. Lyova 1.3.1945"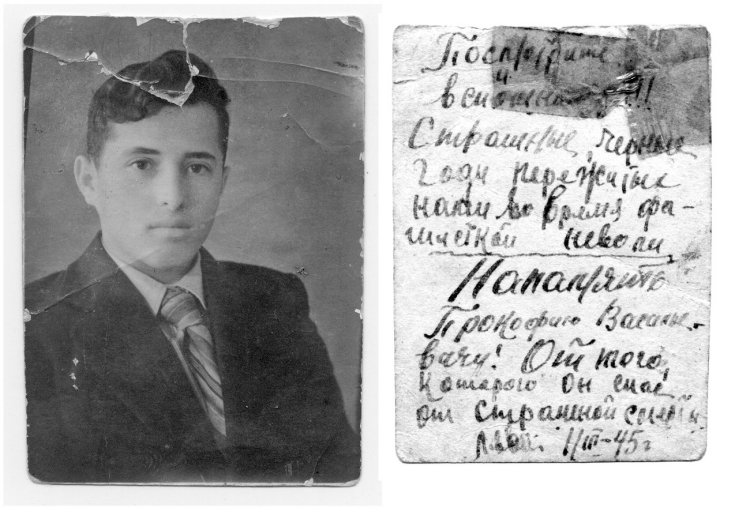 I held this picture many time before and wondered who was that young man and how he is connected to my family. It never occurred to me that this picture is a key to the solution of the question about the family of my grandmother, and a key to a major breakthrough to information about the family of my grandfather too. As I was translating one of the stories from the almanac, I suddenly realized that I am about to find an unexpected treasure. In a story called "Unforgettable" the author who was a young school girl at the time of the events of the Nazi occupation tells a personal story about her self and of her family. She describes the hardships, the horror, the death of her father and the loss of her childhood. She tells about her beloved school teacher Lidya Petrovna and how the Gestapo took her and her daughter Lucie to interrogation from which they did not return alive. They were accused of collaborating with the partisans, but preferred to die rather then to speak up. Lidya was hanged and Lucie was beaten to death. She tells how Lydia's husband, the school master of Kosachyovka, Prokop Vasileyevich, did not break down but continued to hide in a ditch he dug in the cellar of his house a young wounded Jewish partisan boy, Lyova Gurevich from the neighboring village of Petrovichi…..
It suddenly occurred to me that the names I just read in that story are mentioned on the back of the little portrait which I not long ago translated. Prokop Vasileyevich, the school master, the husband of Lidya Petrovna, the school teacher, saved the life of a wounded Jewish boy partisan, Lyova Gurevich, the young man whose portrait I found among my grandparents photos!!!
I realized that the only person who may still be alive of all the names mentioned in the story is Lyova Gurevich. In 1945 he was a very young man so chances are that he is still around. My intuition told me that if Lyova is alive, good chances are that he lives in Israel. I had another intuition- to start my search in Yad Vashem. I must admit that I am not a big believer in supernatural powers, but the way things rolled from that moment on made me reconsider all my beliefs and disbeliefs. It seems that some one up there loves me. I still find it hard to believe but in the same evening, moments after I started my search for Lyova Gurevich I found him. In the search box of the Yad Vashem internet site I typed "Gurevich, Petrovichi" and hit the "enter" key. Seconds later I got the answer I was looking for. There are three witness pages related to the name Gurevich from Petrovichi – Gurevich Isayah, Gurevich Israel and Gurevich Haim, a father and two sons who were killed by the Germans in 1942. The father Isayah and the 4 year old Israel were executed in the ghetto, the 17 year old Haim died in a battle as a partisan. The name of the person who filled up these witness pages is Lev Gurevich from 1 Ha'ilanot St. Yokneam Israel, bingo!!!! Moments after I started my search I had the address and phone number of the person who must have the answers to my questions. It was late at night so I decided to call Lyova Gurevich in the morning. In the following morning I spoke with Lyova Gurevich on the phone. Although he came to Israel 14 years ago he still prefer to speak Russian, so I had no other choice but to do my best with my broken Russian.
Lyova invited me to his home in Yokneam (not far away from Haifa). A week later, accompanied by my Russian teacher, I drove to Yokneam to meet Lyova. I brought with me a few old family photos including the portrait which Lyova gave to Prokop Vasileyevich.
Lyova and his wife were very happy and excited to meet me and Maya (my teacher). When I showed Lyova the photo with his encryption dedicated to his savior he burst in tears. He could not tell me how this photo got to my grandparents. He said that as far he recalls the Ageyevs (the family of my grandfather) and the Ivanovs (the family of Prokop and Lidya) were neighbors. I then showed Lyova some other photos, among them the photo which I thought was the photo of my grandmother's parents. When Lyova put his eyes on that picture he, again, burst into a big cry and when, after a few moments, he calmed down he said that the people in the photo are the Ivanovs, his saviors. The woman is Lidya Petrovna, the man is Prokop Vasileyevich, and the girls are the two daughters Luba and Lucie. He told us that Luba, the elder daughter, was a student in Moscow University when the war broke. She enlisted to the Red Army and was killed in the battle of Moscow.
Now I had an additional question – who was Lidya Petrovna Ivanova and how is she connected to my grandmother Rywka (Ekaterina Petrovna Ageyeva).
After the war Prokop Ivanov remarried. His new wife was Yelizaveta Kondratieva. She was a neighbor of the Ivanovs and after the death of Lidya and Lucie she helped Prokop with the household work, especially she took care of all the needs of Lyova who was hidden in the cellar when Prokop was working in the local school. Yelizaveta and Prokop had three children Vladimir, Valerie and Lyuba. Lyova Gurevich was in touch with Yelizaveta and had the address of her son Valerie in Minsk where she lived. I found out the phone number of Valerie Prokopovich Ivanov and called him. He was very happy to hear from the grandson of Rodion Trofimovich Ageyev. He told me that he knew my grandfather when he (Rodion) visited Kosachyovka in 1958. Valerie gave me a lot of valuable information on my family from both sides and he gave me the answer to my number one question – who was Lidya Petrovna, the first wife of his father. "My father Prokop and your grandfather Rodion were brothers-in-law, their wives; Lidya Petrovna and Ekaterina Petrovna were sisters"!!!! Later on, in his letter he told me about a third sister Agrefina. Later on he even sent me a photo of her:
A photo of Agrafina Petrovha - dedicated by her to her sister Lidya.
As a gratitude to their actions of risking their lives and welfare by saving the life of a helpless Jewish boy Lyova Gurevich, Yad Vashem, the Holocaust Martyrs' and Heroes' Remembrance Authority of the State of Israel, awarded Prokop and Lidya Ivanov and Yelizaveta Kondratieva the honor "Righteous among the Nations." A person recognized as a "Righteous Among the Nations" is awarded a specially minted medal bearing his name, a certificate of honor, and the privilege of his (or her) name being added to those on the Wall of Honor in the Garden of the Righteous at Yad Vashem in Jerusalem.
I am very proud to know that the name one of my Russian ancestors, the sister of my grandmother, the aunt of my father, is engraved on the wall of honor in Yad Vashem in Jerusalem. I am certain that my grandparents must have heard of the events of the war, but because of an unexplained reason they preferred not to speak about it to their children and grandchildren here in Israel. I have a feeling that this will stay for ever another mystery.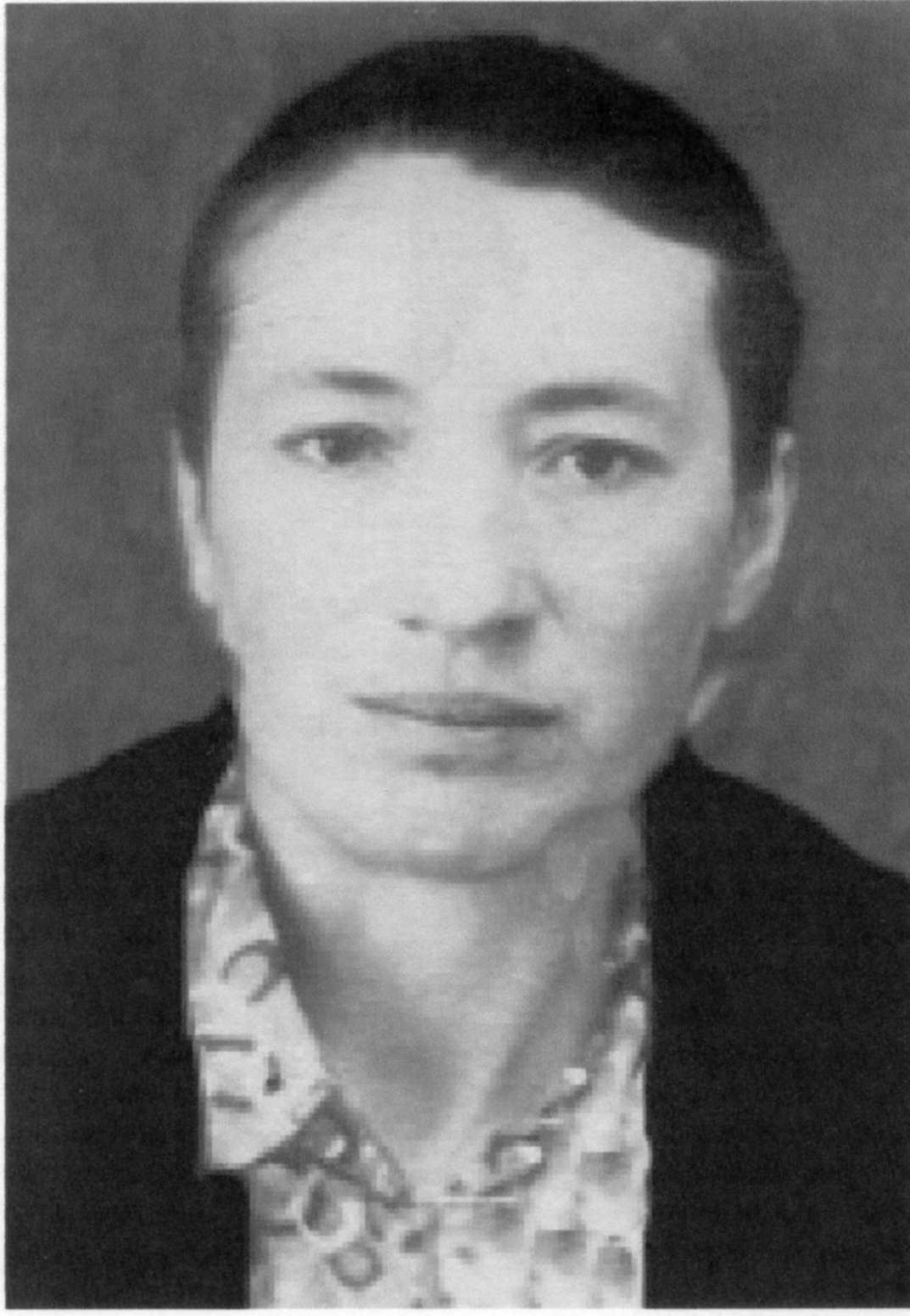 Yelizaveta Kondratieva - second wife of Prokop Ivanov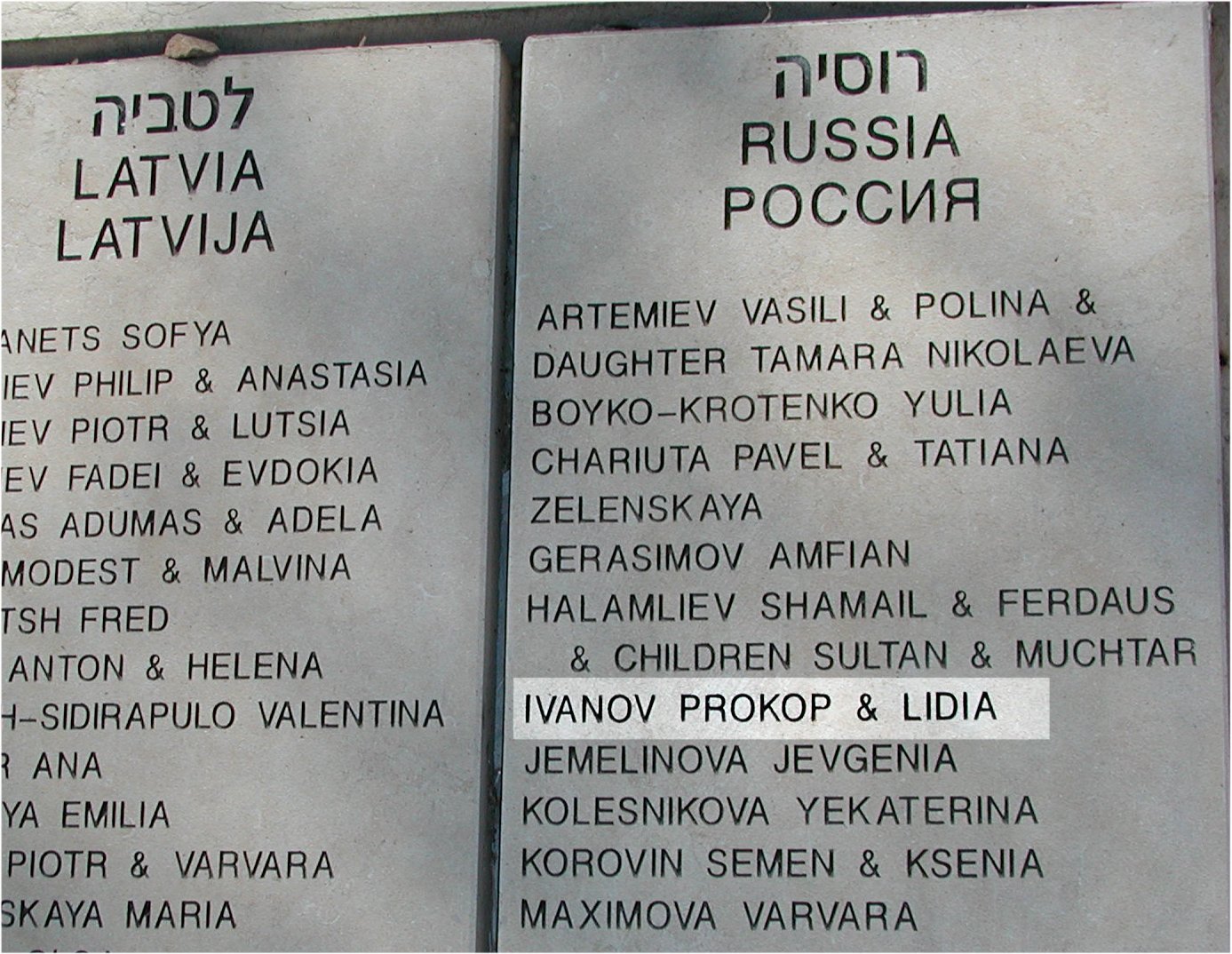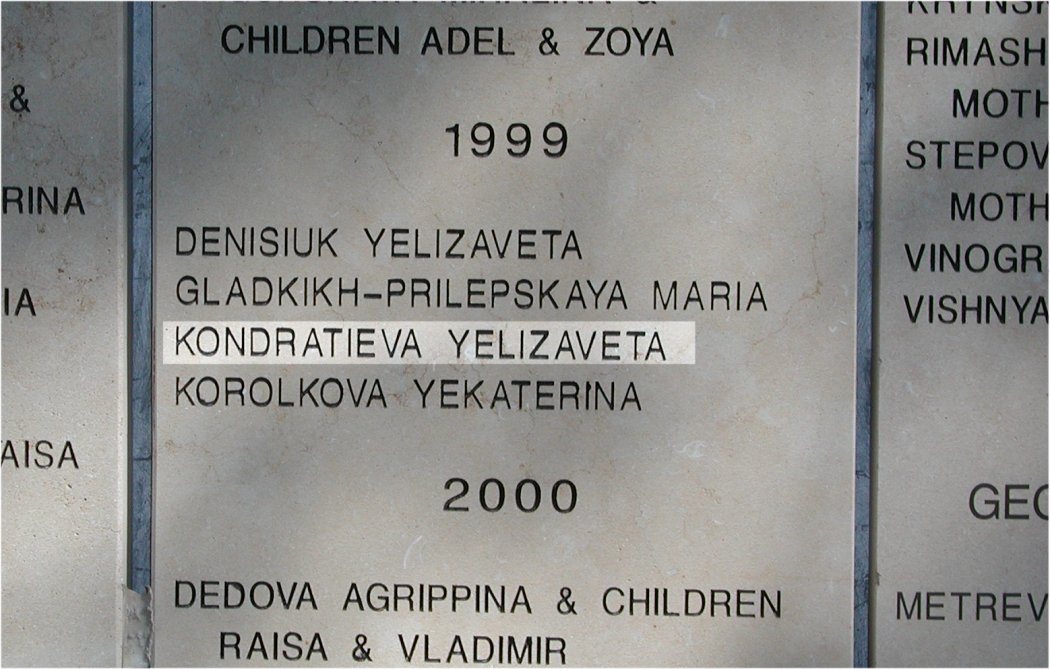 The names of Lidya & Prokop and Yelizaveta on the memorials
for "Righteous among the Nations" in Yad-Vashem in Jerusalem