Home >> English >> First steps in the new land
The Ageyevs arrived to Palestein at the Port of Jaffa in 1923 and settled in Tel Aviv, the first Jewish city of the new era which was established in 1909. Their first home was a shack which they built on an empty lot on Balfuor St. The following picture is a drawing by the famous Israeli painter Reuven Rubin. It is called "Balfuor Street, Tel Aviv, 1925". This is an authentic description of the neighborhood. One of the shacks in the picture must be of the Ageyevs and the children playing on the street are possibly Tuvia ( Anatoli ), Shlomo ( Viktor ) and Yakov......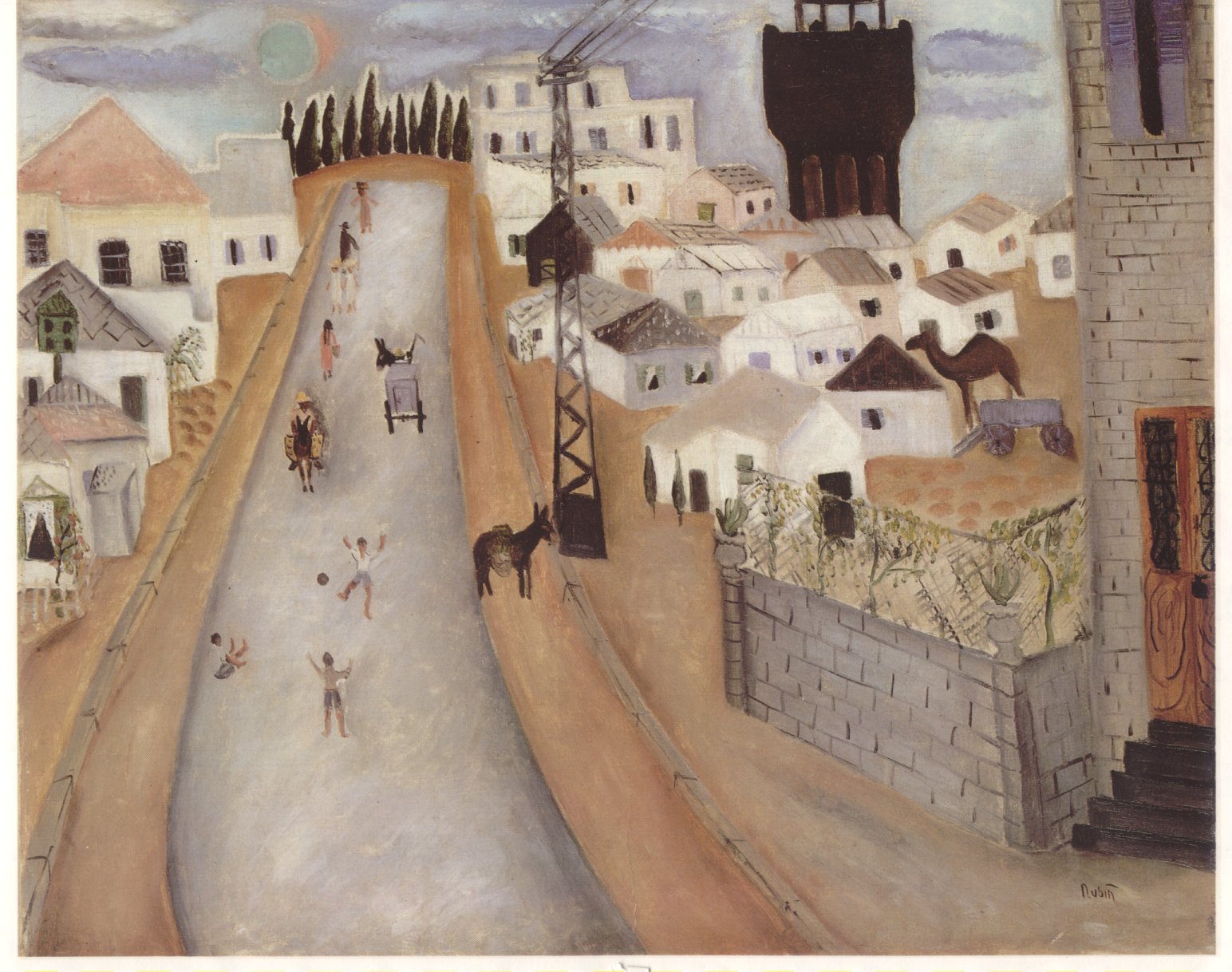 They lived in that shack six years. They started as a family of six souls . With them also lived Ivan ( Enoch ) Rodion's young brother. Soon all the members of the family were converted officially to the Jewish faith, according to The Jewish Law ( Halacha ), by the chief Rabi of Palestein - Rabi Avraham Yitzchak HaCohen Kook. Despite the terrible living conditions, the imbearible hot and dusty climete, the unfamiliar language and culture of the locals , the Ageyevs started to manage and to live productive lives. The kids were sent to school and started to learn Hebrew. Rodion opened his own carpentry shop, and together with his brother Ivan started to support the family.
On February 20, 1924, less than a year after their arrival to the Holy Land, a new baby boy was born, the first Jewish - Israeli "Sabra" , the first root in the new homeland. They called him Moshe.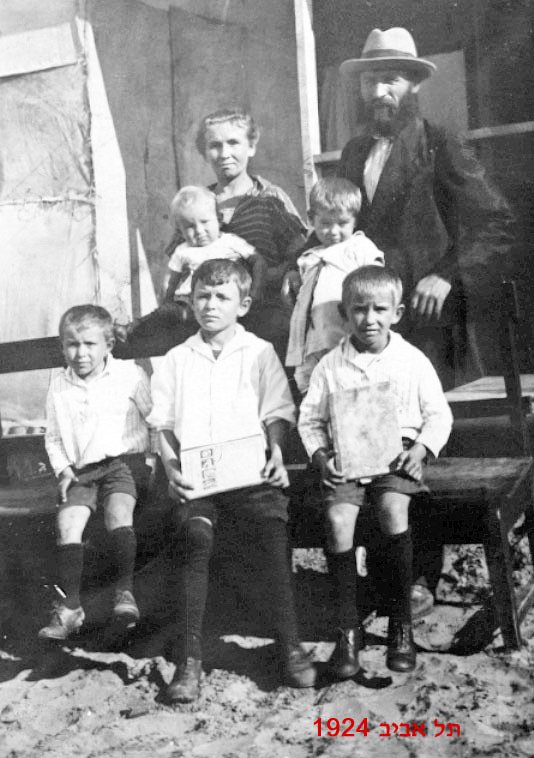 Tel Aviv Balfour street 1924.
The Ageyevs in front of their first home. The boys holding the hebrew text books, Katya is holdind the new baby boy Moshe.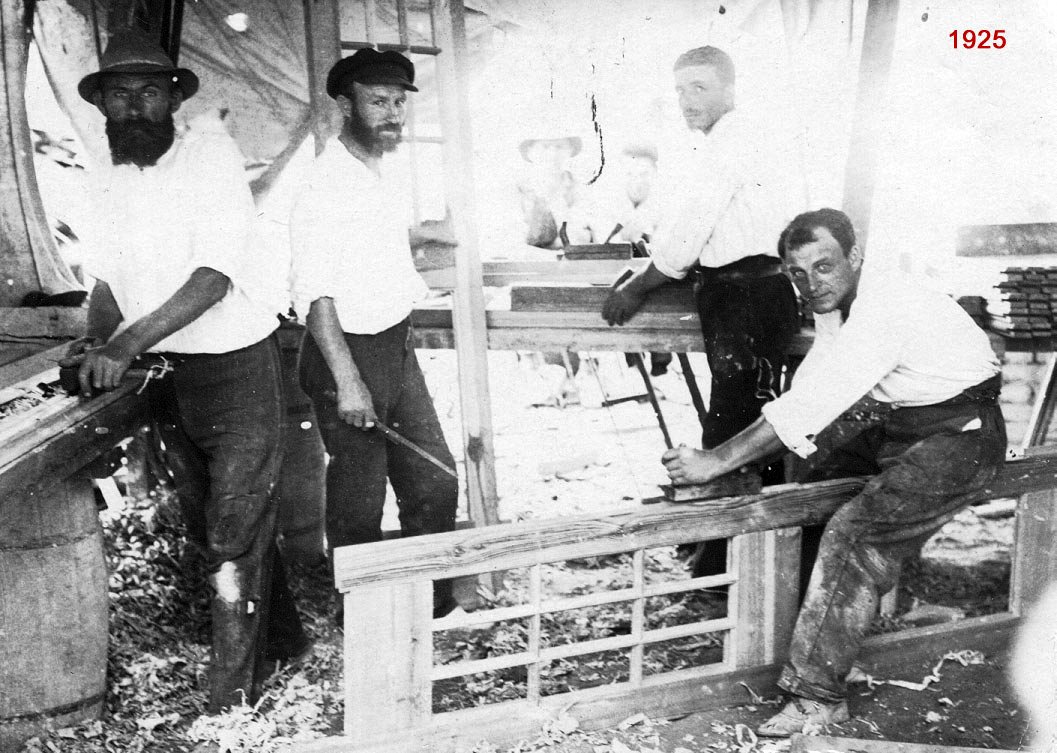 Tel Aviv 1925
In the first carpentry shop. Ivan ( on the right ) building a door, Rodion second from the left.
In 1927 an economical crisis started in Palestein . Rodion and Katya had a family of seven to feed. Ivan, who was a bachelor and had no one to support but himself, decided to return to Mother Russia. He was later wounded in the WW2 in Russia and lost a leg. The next time Rodion met his youngest brother again was in 1956 when Rodion visited Russia and met Ivan and his family in their home in Krasnodar .
Rodion and Katya did not give up despite all the hardships and even enlarged the family. On March 31, 1928 Katya gave birth to her sixed child. They called him Max. Later they gave him the Hebrew name Mordechay.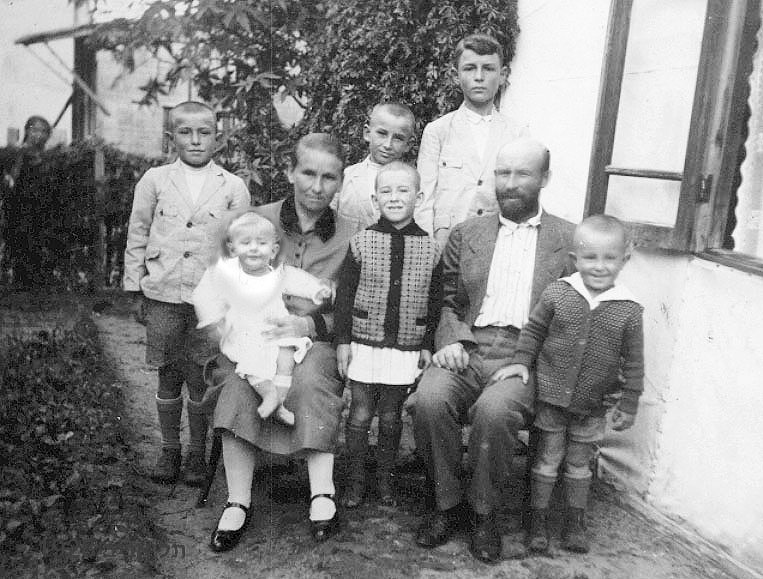 The Ageyevs in their back yard, Tel Aviv 1928
on the back from left: Yaakov, Shlomo, Tuvia. in the front: Katya with Max, Dora, Rodion, Moshe.
In 1929 Rodion purchesed a lot in the northrn part of Tel Aviv, not far from the new sea port of Tel Aviv, on the corner of Dizengoff St. and Tzidon St. ( 289 Dizengoff St. ). They built there a house .They lived in that house until the mid 60s.